Venue
101 Kasugano-cho, Nara City, Nara, JAPAN (zip 630-8212)
TEL : 0742-27-2630
(20 min. walk from Kintetsu Nara Station, or 30 min. walk from JR Nara Station.)
- Floor Map
Thursday, May 22 : Hiten (4th Floor)
8-1, Sanjo Hommachi, Nara-shi, Nara, 630-8122, Japan
TEL : 0742-35-8831
- Access Map to the venue
- Access and Direction to the venue
- Welcome to Nara
- Access to Nara
- Links (For more information)
Access and Direction to the venue
The venue is 30 minutes walk from JR Nara Station, 20 minutes walk from Kintetsu Nara station
By bus, 10 minutes from JR Nara station, or 5 minutes from Kintetsu Nara station
Take a bus No. 2 (the outer loop line) operated by Nara-Kotsu from the bus station "East Exit No.1" at JR Nara station / Kintetsu Nara station, and get off at a stop named "Daibutsu-den Kasuga-taisha mae". The venue is just a few-minute walk from bus stop.

Bus stop at JR Nara station

Bus stop at Kintetsu Nara Station

By taxi, 10 minutes from JR Nara station, or 5 min from Kintetsu Nara station
Welcome to Nara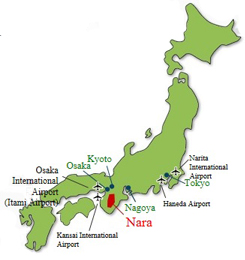 Nara is located less than one hour from Kyoto and Osaka.
Nara was the capital of Japan from 710 to 740, prior to Kyoto (794-1868). It was a city of international cultures in those days, with strong connections with Korea, China, Middle East, and even Europe through the Silk Road.
Due to its past as the first permanent capital, it remains full of historic treasures, including some of Japan's oldest and largest temples.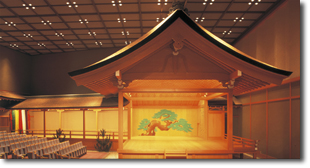 Noh theatre (Nogaku hall)
The venue is located in the center of Nara National Park, which is famous for its beauty and 1,200 tame deer. The Main Hall has an impressive Noh theatre.
Access to Nara
The nearest airport is Kansai International Airport (KIX).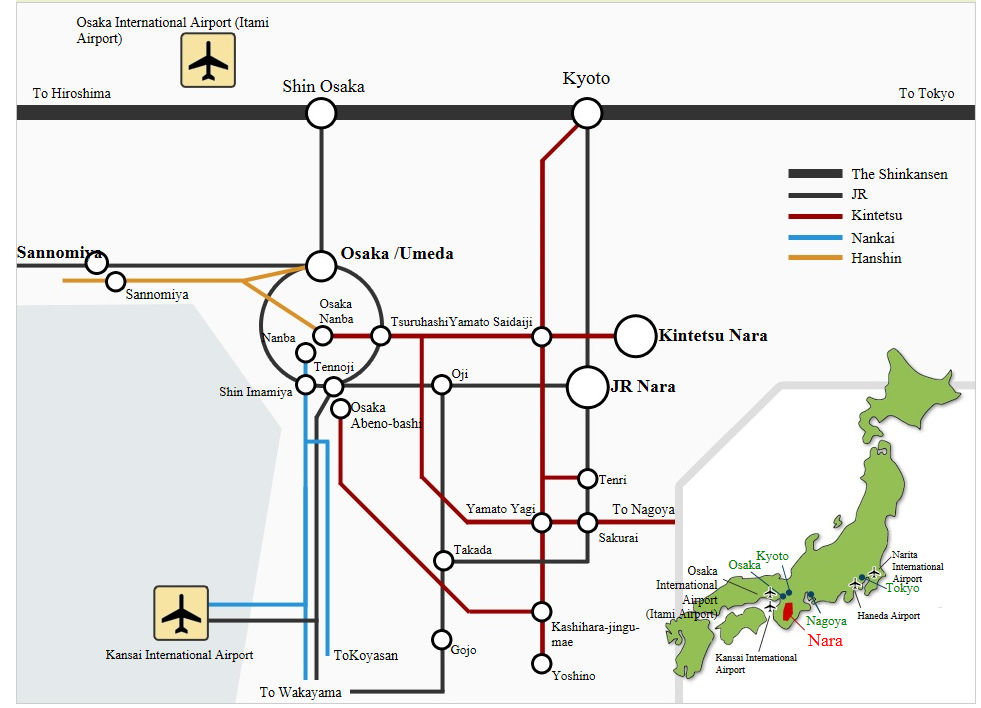 From Kansai International Airport (KIX) to Nara
From Osaka International Airport (Itami Airport:ITM) to Nara
Osaka International Airport (Itami Airport)

Limousine Bus (Time table)
Osaka International Airport (Itami Airport) → (about 60 minutes) → Kintetsu Nara Station → (10 minutes) → JR Nara Station
From Narita International Airport (NRT) to Nara
From Tokyo, Kyoto to Nara
From Tokyo to Nara
From Kyoto to Nara
Links